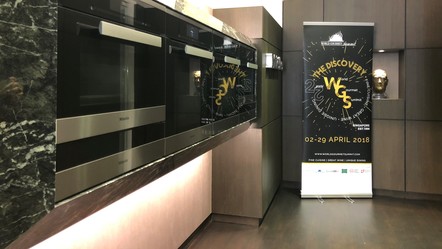 The World Gourmet Summit (WGS) welcomed its 22th year of the acclaimed epicurean festival from 2 to 29 April 2018. Diners at this year's edition were taken off the beaten track to experience some of the world's exciting, lesser-known cuisine at various Singapore's finest dining establishments. Miele is proud to be WGS's Official Home Kitchen Appliance Partner.
Under this year's theme 'The Discovery WGS', a stellar team of chefs from Singapore, Mexico, Ireland, Korea, Malaysia, Sicily, Japan, Ukraine, Hungary, Poland, and Australia held various culinary activities. From 16 to 20 April, Miele hosted notable chefs at the exclusive Miele Lounge at Penang Road for their masterclasses, private luncheons and dinners.
Ardent champion and philosopher of Irish food, Chef Kevin Thornton indulged guests at the intimately seated Chef's Table at Miele Lounge for his masterclass and luncheon. The jovial two Michelin-starred chef delighted guests with anecdotes of his culinary travels, sharing about the origins of his ingredients such as seaweed and oyster from Ireland as he cooked his way into their palates and hearts.
For a private Miele dinner, our Friends of Miele Chef James Won curated a sumptuous five-course dinner for Miele guests. The celebrated Malaysian chef demonstrated his entre dish of organic egg whites with chives and caviar on the latest Miele TwoInOne, an innovative induction hob with integrated vapour extractor. Diners enjoyed an elegant farm to table dining experience with ingredients from the organic Farm Enfin in Malaysia.
The Miele Lounge also hosted masterclasses by award-winning master chefs Akira Back, Ross Lusted and Patrizia Di Benedetto, who is also the very first Michelin-starred female Sicilian chef.