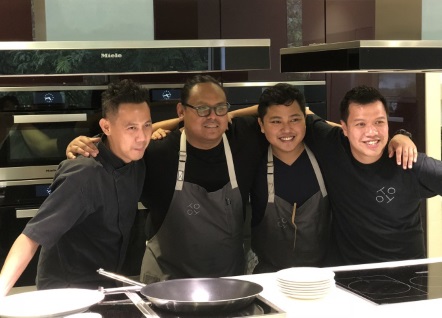 A medley of Philippines and Singapore cuisines, and a singing chef to boast of.
Winner of 'Miele One to Watch' Chef Jordy Navarra of Toyo Eatery joined hands with Chef Li Guang of one-Michelin-starred Labyrinth for a meet and chat session at the Miele Lounge for media guests.
Showcasing a menu toying with elements of popular local dishes, the celebrated chefs presented four tongue-in-cheek dishes. A play on both chefs' name and a tribute to the popular fried chicken brand in Philippines - the 'Jor-Li-Bee Chicken & Chiacharon' featured fried chicken lollipop and crispy pork crackling served with curry sauce dip. The 'Singaporean Kinilaw 'Skinnylaw' showcased local produces from the two homelands with local famed silver perch ceviche, calamansi and three grain congee espuma.
As the event drew to a close, Jordy's sous chef belted out a boisterous song performance as he naturally would in Toyo Eatery – keeping true to the warm and welcoming Philippines spirit.