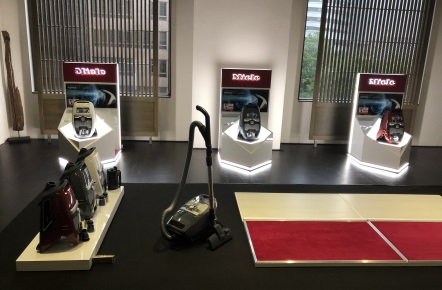 A brand new power has arrived!
Miele Singapore recently unveiled the new Blizzard CX1 vacuum cleaner to media guests and business partners for a private preview event at the Miele Lounge.
The event commenced with a welcome speech by Ms. Syndy Neo, Managing Director of Miele Singapore, revealing the launch of the Miele's first ever bagless vacuum cleaner. The newest addition to Miele's fleet of high-performance vacuum cleaners, the Blizzard is powered by vortex technology enabling high performance cleaning and pleasant operating sound levels.
Guests were treated to a live demonstration of the Blizzard, which had achieved an A rating for dust pickup from hard floors. A variety of common household grime was tested on carpet and hard floor to demonstrate Blizzard's convenient and superior grime and dust pick up. Effective separation of coarse and fine dust in the Blizzard also showed the guests how easy it is to empty the dust box with minimal contact with the dust. Furthermore, guests experienced a hands-on session using different floor heads, such as the Mini Turbo Noozle and Parquet Floor Head, on the two surfaces.
The Blizzard CX1 is available now in Autumn Red, Graphite Grey and Lotus White at a recommended price from S$529 onwards.