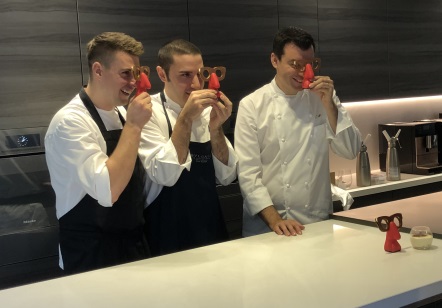 The Miele Lounge hosted an exclusive Media Masterclass with Tokyo-based Chef Luca Fantin of Michelin-starred Il Ristorante Bvlgari and Chef Kirk Westaway of Michelin-starred JAAN.
The multi award-winning chefs showcased the finest in Modern British and Contemporary Italian cuisine using a variety of Miele appliances. Drawing from the chefs' culinary origins, Chef Kirk presented the 'English Garden' - a medley of vegetables that stirred up his memories of his own garden back home while Chef Luca presented a modern interpretation of the 'Spaghetti Monograno Felicetti' with caviar that evoked the taste of Italy.
Ending off the masterclass on a sweet note, Pastry Chef Fabrizio constructed a whimsical interpretation of the classic 'Tiramisu' - in the shape of an eyewear resting on a cheeky nose-shaped display, and served with light-as-air mascarpone cream.
With the gastronomic journey proving to be a hit with the guests, so were the affable chefs who gamely posed for photographs holding the Tiramisu at the end of the masterclass.