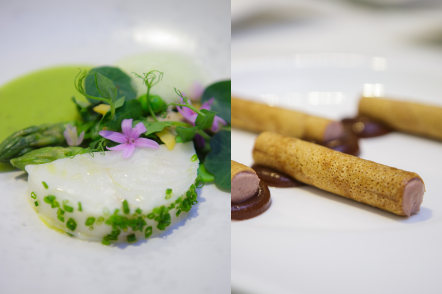 On World Environment day, Miele and Tatler Dining hosted a zero-waste cooking masterclass at the Miele Lounge. With Jaan's Kirk Westaway and Cheek by Jowl's Rishi Naleendra helming the masterclass, guests learned a wealth of culinary techniques and environmental tips from the two Michelin starred chefs.
Not sparing any parts of the seasonal Irish turbot, Chef Westway combined various cuts of the fillet into a pièce de résistance served with a broth made using the remaining parts of the fish. Choosing the much over-looked and under-used part of chicken, Chef Naleendra turned the chicken liver into a delectable chicken liver parfait, piped into crispy biscuit rolls.
Prudency was a key message that both chefs echoed. Chef Westway used a mold, made from recycled materials, for his assembly of fish while Chef Naleendra added his house pickling liquid -the same liquid he uses to regularly pickle vegetables- to the date jam accompanying the chicken liver parfait.
Guests enjoyed the delectable dishes prepared by both chefs and went home armed with knowledge of how to better use their ingredients to minimize food waste and delicious recipes to kick start their zero-waste cooking journey.