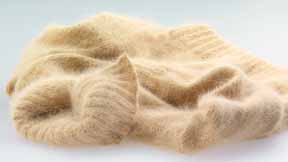 Wool fibres are composed of several layers. Wool retains heat especially well and so is often used for warm pullovers or soft and cuddly winter clothing. Wool types include cashmere, angora, merino, lambswool and mohair, among others. Sheep's wool is the most common, which is obtained by shearing once or twice a year.
Washing: Miele has made hand washing a thing of the past! You can wash all wool textiles without worrying using the Miele programme for "Woollens". The Miele honeycomb drum also ensures especially gentle care.
Drying: The Miele "Woollens handcare" programme puts the shape back into the fibres so that your woollens regain their bounce. Finally lay your favourite pullover flat to finish drying in fresh air.
Ironing: Clothing made of wool can be ironed at a medium temperature (max. 2 points) and with steam.
Extra tip: The gentle liquid detergent WoolCare from the Miele CareCollection with its fibre-protection components against felting and colour-protection formula for bright colours ensures gentle cleaning and care.
Scratchy pullovers will regain their softness if you place them in a freezer packed in a plastic bag for a short time.