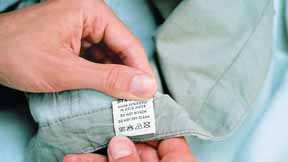 (Nylon/polyester/polyamide/polyacryl)
 These fully synthetic fibres are extremely elastic and resistant to tearing and abrasion. They do not shrink and dry quickly since they absorb little moisture. Synthetic textiles also maintain their shape well and do not wrinkle.
Washing: To avoid the danger of thermosetting of creases, polyester and polyamide should be washed at a maximum of 60° C using a "Minimum iron" or "Delicates" programme. Many Miele washing machines even have a special programme for optimum care of synthetic fabrics. If you use fabric conditioner, you can prevent synthetic fibres from building up electrostatic charges and static cling.
Drying: Synthetic fabrics are treated especially gently in a Miele tumble dryer thanks to the "Delicates" programme. However, it often suffices to roll the textiles into a towel and press out the moisture. The remaining moisture evaporates just as quickly if the fabric is laid down somewhere or hung on a hanger.
Ironing: Nylon fibres tend to contract if subjected to substantial heat. Polyester has good properties for eliminating wrinkles, so that it tends not to crease very much. If creases develop during washing or drying, you can simply smooth them out with your hand. Especially stubborn wrinkles disappear if you iron them using heat level 1. An anti-stick sole provides additional protection against scorch marks.