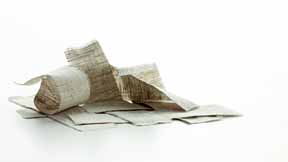 This natural fibre is gained from the stems of the flax plant. Linen is characterized by a high degree of strength and durability. In addition, it is resistant to dirt and odours. It wrinkles easily because it does not stretch much. Linen is used in particular for household textiles such as table linen, but also in the fashion industry for light summer clothing.
Washing: White and bleached linen can be washed at temperatures up to max. 60° C, and coloured linen up to 40° C with detergent for delicates without brighteners. To check for colour fastness, place the corner of a garment between two layers of white fabric and iron using a hot steam iron. If the colour leaves an impression on the white fabric, the material loses colour. Linen wrinkles very easily and should be spun using a low spin speed in the washing machine, or not spun at all.
And take care: linen is very susceptible to mildew.
Drying: it is best to dry linen on the washing line. Pull into shape before hanging it up. Linen dries faster and easier if you slightly dry it in advance using Miele's special "Smoothing" programme. This reduces creasing and makes it easier to iron.
Ironing: Linen should be ironed with a hot iron (3 dots) and preferably with steam. An anti-stick sole provides additional protection against scorch marks.
Extra tip: linen is easier to iron if you add rinsing starch before the last rinsing cycle.