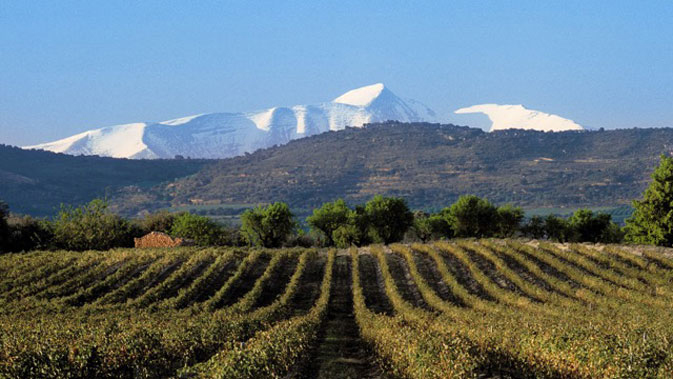 Somontano
Short, hot summers and harsh, long winters, craggy mountains, barren soil and lots of wind – this region at the foot of the Pyrenees is still an insider tip among wine connoisseurs.
The red-brown soil is dry, full of sand, gravel, scree, and scrub, it smells of rosemary and limestone. Far away to the North, one can just make out the faint twinkle of the snow-covered slopes of the Pyrenees, the hills and valleys in between are covered with long rows of vines. This quiet, secluded region, entirely undiscovered by the tourist industry, is home to one of the most interesting wine-growing regions of Spain: Somontano, which translates as "beneath the mountains". Its 4,500 hectares of vineyards (part of a total of over a million hectares in the whole of Spain) are on average 650 metres above sea level (similar to the wine-growing regions of Argentina). In the late 19th century, vintners from the Bordeaux region planted the first vines here, covering up to 100,000 hectares, until they were destroyed by the grapevine louse. Cooperatives of French vintners – supported by grants from the subvention funds of the Spanish savings banks – revived the region in the 1960s and 1970s. With their strict quality management, the bodegas Vinãs del Vero, Secastilla, and Blecua, led by winemaker José Ferrer, have had a marked influence on this wine-growing region in recent years.
The region mostly grows red grape varieties, classics such as Tempranillo, Garnacha, Cabernet Sauvignon, Merlot, Syrah and Pinot Noir. The white grape varieties are dominated by Macabeo, Garnacha Blanca, Alcañon, Chardonnay, and Gewürztraminer. Due to the soil and the climate, the red wines are intense, powerful, fruity with hints of berry, and of a dark colour. Garnacha is monovarietal, the other reds are cuvées. The white wines also show great character and intensity, the Chardonnay is smooth and has a fresh tartness, the Gewürztraminer – possibly the best in all of Spain – has an intense fragrance of roses and is an ideal aperitif.
Text: Rainer Meier