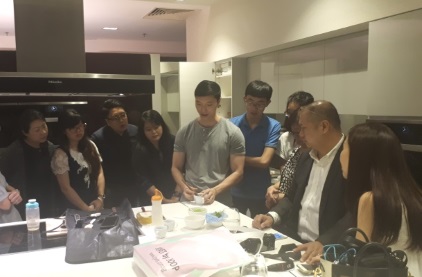 Lights! Camera! Action!
Miele recently collaborated with Sony and Masterchef Asia finalist, Lennard Yeong to conduct 2 sessions food photography workshop where Lennard shared his tips and tricks on cooking, plating and of course, food photography.
He demonstrated how simple ingredients could be cooked to perfection with the use of Miele's Steam Oven and shared different plating techniques with simple tools easily found at home to spruce up your home cooked meal with results like a restaurant served meal.
Participants had the opportunity to get creative with the plating techniques and did up their very own masterpiece with the food and ingredients prepared by Lennard. Once the participants were pleased with their masterpiece, they proceeded to test out the different photography tips Lennard shared. The participants brought their masterpieces around Miele Lounge in search of the best lighting and angle to capture their best snap with the cameras provided by Sony.
Guests went home with their memory card filled with many images from the session and a happy belly as they finished off the session by digging in to their masterpiece once they were satisfied with the photographs they got.