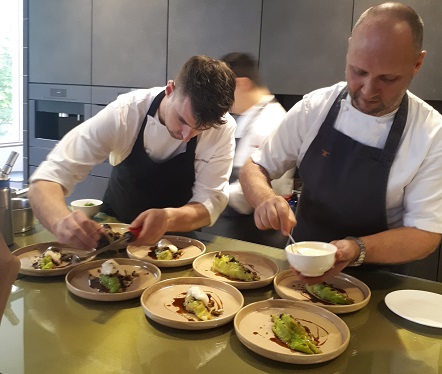 Miele is honoured to work with Chef Kirk Westaway for another 4 Hands Masterclass, this time with the renowned Chef Simon Rogan from UK. This session was a media preview to the highly anticipated dinner collaboration between these 2 chefs at Jaan.
Chef Simon Rogan achieved incredible success during his years at the top of British cuisine, gaining two Michelin stars at his flagship Cumbrian restaurant, L'Enclume, where he farms and forages all manner of unusual edibles. His highly complex, beautifully crafted dishes change as regularly as the natural world and his restaurant is currently ranked number one in Britain.
This powerhouse collaboration united by more than their shared English roots; and bounded by a common culinary philosophy and vision for produce-driven fine cuisine. It was indeed a culinary showcase of each Chef's chosen signature dish for the day. Chef Kirk prepared the Confit Hen's Egg while Chef Simon, a Dill Brined Cabbage with Truffle with the freshest ingredients from his very own farm. And why are we not surprised that the media guests were immensely impressed with the food.
This is yet another successful event of 2 like-minded chefs coming together and wowed the guests not just with food, but their easy going personality which made the afternoon spent at the Miele Lounge much more memorable.