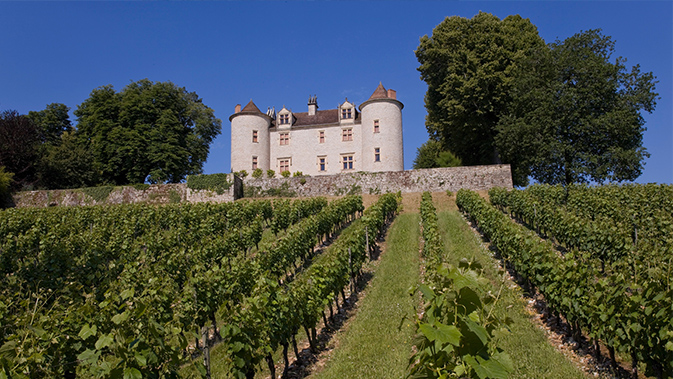 Malbec
Difficult to find now in its native home in southwest France, this grape is enjoying huge success in South America.
In regions with warm, dry climates, they used to make dark, crimson wines with plum and violet aromas from the soft, juicy Malbec grapes. Because of these characteristics it was often blended in Bordeaux with Cabernet Franc and Cabernet Sauvignon. But it is rarely dry in the Bordeaux growing area and it is often not warm enough; a large number of old Malbec vines were replaced by new, frost-resistant Merlot plants after the extensive frost damage suffered in the early 1960s. Today, the only region producing Malbec wines that deserve the label "black wine" (vin noir) is an area of arid, high-lying limestone soil around Cahors. French Malbecs can also be found in some parts of the Loire blended in a cuvée with Gammay and the two Cabernet varieties. Malbec is also grown on a small scale in the USA, Chile, Australia, Italy, South Africa, Spain and Switzerland.
But it's a very different story in Argentina. The Malbec grape has found the perfect conditions here on 24,000 hectares of land at the foot of the Andes. In the province of Mendoza especially it's hot and dry in summer, the nearby mountains bring cool temperatures at night and there is plenty of meltwater from the Andes for irrigation. The dry warmth at altitudes of up to 1,680 metres means the thick grape skins can ripen fully, preventing the tannin content from getting too high. Because of these favourable climatic conditions many vineyards forgo the use of chemicals and grow their grapes organically.
This results in robust, plump wines with an aroma of plums, raisins, cassis, blackberries, liquorice, dark chocolate and violet.
Text: Rainer Meier

Wine recommendations:
Bodega Piedra Negra (Mendoza; Valle de Uco):
2013 Malbec Réserve + 2011 Gran Malbec
Bodega Benegas (Mendoza; Valle de Uco + Gualtallary):
2014 Juan Benegas, 2012 Malbec Estate + 2012 Lynch Malbec
Ojo de Vino – Dieter Meier (Mendoza; Agrelo Alto):
2013 Loco Malbec, 2014 Puro Malbec + 2012 Puro Malbec Grape Selection
Kaiken (Montes) (Mendoza + Salta):
2013 Malbec Reserva, 2013 Malbec Terroir Series Corte + 2012 Malbec Ultra
Bodega Carelli (Mendoza; San Martín, Junín + Rivadavia):
34 Malbec 2013, Carla Chiaro Malbec 2010 + Malbec Gran Reserva 2006