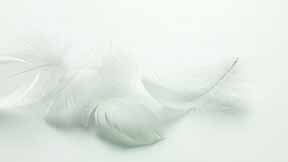 Down has plenty of volume, stores heat and provides insulation. This is why it is used for filling duvets and clothing. Although white down is the most expensive, there is no difference in quality between white and grey or mixed colour down. Down textiles require cleaning at regular intervals to maintain their body.
Washing: Miele has developed special pillow and duvet programmes for the hygienic washing of down-filled items. High temperatures and a higher level of water effectively dislodge dustmites and dustmite faeces from the laundry.
Drying: Miele tumble dryers feature programmes for "Pillows" and "Large pillows". So your duvets and pillows are dried and plumped up optimally.
Extra tip: The special detergent "Down" from the Miele CareCollection ensures gentle and effective cleaning of jackets, sleeping bags, pillows and other down-filled items.