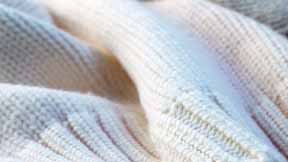 Cotton is one of the most popular natural fibres because it has excellent spinning characteristics and is particularly long-wearing. Cotton materials are very easy to dye and to bleach. On the other hand, the fabric is not very elastic, wrinkles very quickly and has low heat retention. However, there is hardly any other material that is so robust - or that can withstand so many cycles in a washing machine. The fine, solid fibres of the ramie plant from the Far East can be refined into a soft and fine blended cotton fabric with a beautiful shine.
Washing: Miele provides a special 'Cottons' programme for optimum care. White cotton generally withstands washing up to 95° C. On the other hand, coloured cotton should only be washed up to 60° C with a colour detergent due to the danger of fading. Do pay attention to the care label on the clothing as a matter of course.
Drying: Cotton can normally be dried in a tumble dryer. Miele dryers have a Cottons programme. Depending on the type of fabric please pay attention to the care instructions provided to prevent the risk of shrinkage.
Ironing: Cotton can be ironed with a hot iron (heat level 3) and with steam. Depending on the fabric, some garments should be ironed inside out.