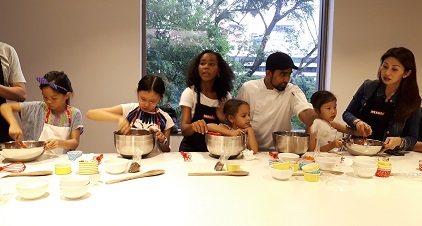 We welcomed a very different group of guests to Miele lounge on Friday, 6 Oct 2017. Balloons, stickers, colouring books and mini aprons were seen around the lounge. That's because it was Children's Day and we hosted kids (with their parents and guardians) together with SuperNature and Kids21 for 2 sessions of hands-on baking activity.
The fun-filled afternoon started off with an informative sharing session by Eve from SuperNature on healthy eating for children. The children were involved and curious about what Eve had to share. To illustrate how healthy ingredients can be incorporated into food without compromising on taste, we moved into our active kitchen and that was where the fun began.
The kids, together with an adult started measuring ingredients such as Gluten-Free Rolled Oats, Almond Meal and Gound Flaxseed and tossing them into a mixing bowl with the guidance of Chef Saman from COMO. Eve also continued to explain the benefits of each of the ingredients. The kids were excited to start mixing everything together and they had a ball of a time doing just that and portioning their mixture into muffin cups and later, sending their muffins into the ovens to bake. They proceeded to create a healthy parfait while waiting for the muffins to bake in the oven. The aroma of the muffins drifted out and everyone was excited to check out how their muffins were coming along. The kids stood eagerly in front of the ovens to peep at their muffins and anticipated the moment that the muffins could come out of the oven, which came very soon after.
The muffins were baked to perfection to everyone's delight and every child got to bring all their masterpieces home to share with the family, together with a beautiful balloon and goodie bag from Miele and SuperNature.