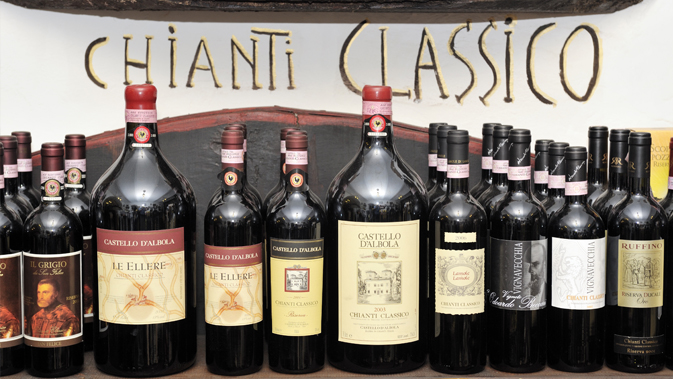 Chianti – the Tuscan red
Chianti Classico is undoubtedly one of Italy's best red wines. But in the gently rolling hills between Florence and Siena, other Chiantis have now made a name for themselves.

There is evidence to show that Tuscans have been enjoying Chianti since the 14th century. A simple light red table wine made from red and white grapes, sharp, dry and fruity. When the region was given DOC status in 1967, Chianti had to be made from 70% red Sangiovese grapes and the remaining 30% from lower quality white Trebbiano and Malvasia varieties. It was the standard wine in the trattorias, drinkable, not very impressive, but not very expensive either. Tellingly, the Italian name for the typical straw-covered Chianti bottles was fiasco.
Since 1967, the Chianti regulations have been changed twice and a "G" for "guaranteed" has been added to the DOC designation. Now wine made only from Sangiovese grapes can call itself "Chianti Classico DOCG", but up to 15% of it can come from other varieties. If "Riserva" appears on the bottle, the wine must have been aged for at least 24 months, three of which must have been in the bottle.
Alongside Chianti Classico DOCG from the main region – recognisable from the black cockerel (gallo nero) on the label – there are six other forms of Chianti produced in the surrounding areas:
Chianti Colli Fiorentini DOCG – drinkable, everyday wines to drink young from the hills around Florence
Chianti Colli Senesi DOCG – often made from Brunello and Vino Nobile di Montepulciano grapes from the hills surrounding Siena
Chianti Aretini DOCG – harmonious wines with delicate berry aromas from the area around Arezzo
Chianti Colline Pisane DOCG – light, soft, fresh wines from the hills near Pisa
Chianti Montalbano DOCG – fruity, dry wines with an intense aroma of sweet violets from the area around Carmignano
Chianti Montespertoli DOCG – smooth, fruity, fresh wines from the region south-west of Florence
Chianti Rúfina DOCG – elegant wines that age well from the area east of Florence.
You can find more information at www.chianti-classico.de + www.chianticlassico.com
Text: Rainer Meier