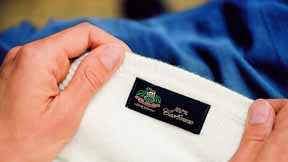 Cashmere is a type of wool of particularly high-quality. The natural fibres are sheared annually from the down hair of cashmere goats. The global yield is only approx. 5000 t/year. Cashmere is a very expensive and delicate textile. Because of this it requires special care when it is washed.
Washing: Knitted items made of cashmere should be washed carefully at 30° C using a liquid detergent for woollens. This has a neutral to weak pH value, which prevents the swelling and felting of the fibres. Textiles made of cashmere do not like to be soaked. They prefer a quick wash and do not like to be rubbed or wrung out. Because detergent residue can destroy the sensitive fibres, it is especially important to rinse the textiles several times in cold water after they have been washed.
The patented1) honeycomb drum in connection with the hand-washing wool programme from Miele (special drum rhythm, optimized water level, max. spin speed 1200 rpm) handle your favourite piece especially gently.
Drying: The "Woollens handcare" programme in your Miele tumble dryer puts life back into the fibres leaving your favourite pullover soft and fluffy after drying.
Extra tip: The gentle liquid detergent WoolCare from the Miele CareCollection with its fibre-protection components against felting and colour-protection formula for bright colours ensures gentle cleaning and care.