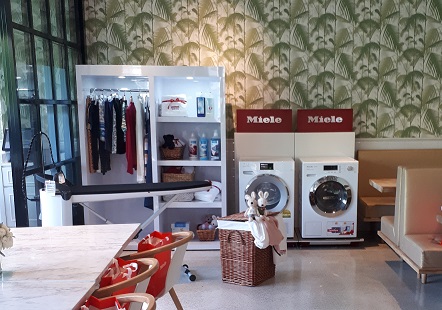 To the time-strapped Singaporeans, the last thing we need is to waste time on worrying about the pile of laundry. We would much prefer to spend more time on the people and the things we love. Miele recognises this by introducing the WT1, a washer-dryer that dispenses detergent, washes and dries your laundry, all in 1 cycle. To complete the laundry total care, Miele has the improved Fashion Master 2.0 that gives a fast and gentle result, even on difficult and delicate fabrics. Laundry care has never been so quick and easy, leaving you more time to do the things you enjoy.
Both products were first introduced at an intimate afternoon tea at Island Café, Tangs at Tangs Plaza on 23 August. The well-attended event was organised in collaboration with Singapore Tatler, which invited some of Singapore's society friends to join us for sharing and Q&A session on fabric care anchored by Daniel Boey. We had models Kay Rigby and Aimee Cheng-Bradshaw to showcase the latest A/W collection from Society A, as well as to share their laundry woes. They've shared their problems with washing, drying and ironing delicate materials such as lace and silk with the audience and a Miele Rep explained that all fabrics that Miele's total laundry care, not confining to WT1, can solve their problems.
The Fashion Master 2.0 was an instant hit with the guests and many of them were interested in trying it out themselves. They had a ball of a time ironing on the Fashion Master 2.0. Come try it out yourself to understand why this became an instant hit.
>view photos
>Learn more about the WT1 washer-dryer
>Learn more about the FashionMaster 2.0
images credit: Singapore Tatler Homes