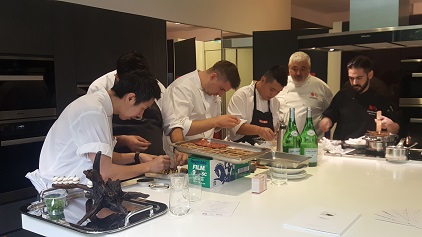 Miele recently had the honour of hosting a 4Hands Masterclass at the Miele Lounge, organised by San Pellegrino & Fairmont Singapore. It was an afternoon of culinary collaboration between renowned chefs, Chef Umberto Bombana of 8½ Otto e Mezzo Bombana, a 3 Michelin Star chef and Chef Kirk Westaway of Jaan, a 1 Michelin Star chef here in Singapore.
Invited media guests were treated to a feast for all senses as the chefs shared the ingredients and techniques used in the creation of each dish, followed by live demonstrations and a tasting of the food prepared for all present. Guests were even delighted with a surprise dish of hand-made pasta with a generous serving of freshly grated truffles. They also learned about water-and-wine-pairing following the tasting of each dish.
The session puts a perfect ending to the 4Hands collaboration between Chef Bombana and Chef Westaway. It was a fulfilling experience not only for the chefs, but for everyone who had the opportunity to experience the menus created by both chefs at Fairmont Singapore, as well as the privileged media who were invited to the one and only Masterclass at Miele Lounge.