Altura Máxima Malbec 2012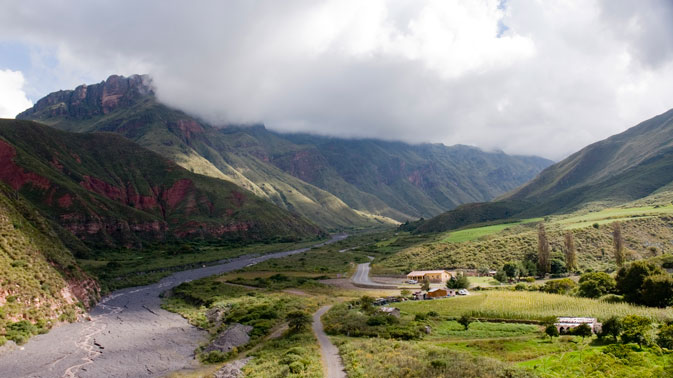 Altura Máxima Malbec 2012
The highest vineyard in the world is located at an altitude of 3,111 metres in the province of Salta in northern Argentina, and is owned by a Swiss winegrower. What effect does this have on its wine?
The first thing you smell when you hold a glass up to your nose is the scent of plump, ripe blackberries and plums, followed by the aroma of the wild herbs that you find on a summer's walk through the Garrigue in southern France: rosemary, thyme, sage and a hint of lavender. Finally, they are joined by a gentle peppery scent of roasting, like the aroma of grilling meat that drifts over from a neighbour's garden. When you take a sip, the wine in your mouth fulfils what the aroma in your nose promises: a powerful wine, with plenty of finesse, full-bodied, complex with silky, mature tannins – all of which last through to the long finish. It's more like a statue by Giacometti than Rodin.
The whole thing is thanks to two people and a unique natural location. In 2001 Donald M. Hess, originally from Berne, and his wife Ursula bought the Bodega Colomé Estate – founded in 1831, making it the oldest continually operating winery in Argentina. Donald Hess appointed the famous French vintner Thibaut Delmotte, who had previously worked with great success in Bordeaux and Burgundy, as his managing director in 2005. In 2007, the Malbec grapes were planted at an altitude of 3,000 to 3,111 metres (Altura Máxima = maximum altitude) on sandy alluvial soil with a high clay content near Molinos in the Valle Calchaquí – surrounded by striking cliff formations and impressive cacti. Since then, the vineyards have been farmed organically. Grapes were harvested for the first time by hand in 2012. The particularly intensive sunshine with high UV levels, the low oxygen content in the air and the cold nights mean that the extremely small grapes develop thick skins. After fermentation, the wine is stored in French oak barrels for 24 months, which gives it a structure without imparting a woody flavour. The Altura Máxima Malbec 2012 is a top-class wine in every respect.
Further information:
Text: Rainer Meier