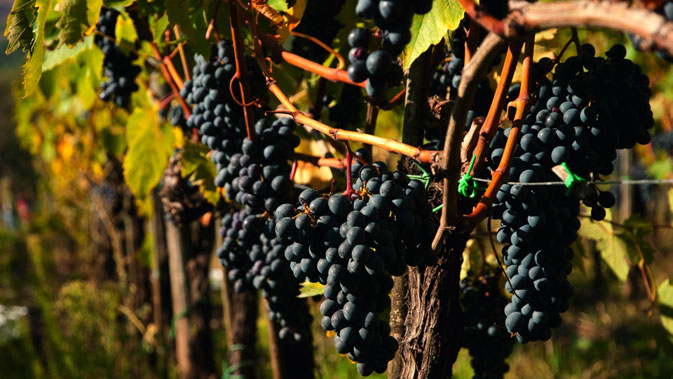 Sangiovese – the pride and joy of Tuscany
Brunello di Montalcino, Vino Nobile di Montepulciano, Morellino di Scansano and Chianti Classico – a single grape variety dominates in all these melodious Tuscan wine names: Sangiovese – an austere beauty that desires to be conquered, not seduced.
Sweet with some tartness, slightly sparkling, with aromas of currants, cranberries and fresh thyme - that's the flavour of simple, young, single-variety Sangiovese. If this grape variety is given more attention - yield reduction in the vineyard, careful handling in the cellar and cask - it becomes a wine with character and potential: neither an easy, smooth wine, nor a scratchy country wine in bulbous bottles braided with raffia (as was common until the eighties).
Sangiovese was created from a spontaneous hybridization of the grape varieties Ciliegiolo and Calabrese di Montenuovo. It owes its name to the Romans, who called it "Jupiter's Blood" (Sangius Giove) because of its deep red colour. Today, it is the most important and, with more than 100,000 hectares, the most widely cultivated grape variety.
Its bittersweet fruitiness with aromas of sour cherries, violets and herbs, and lots of acid and tannin has been popular in Tuscany for a long time. Nowadays, its notes of plums and mulberries are emphasized and it is given additional spice, vitality, structure and well-roundedness through storage in new oak casks (barriques).
Both types of wine are the perfect complement for a grilled T-bone steak (bistecca alla fiorentina), roasted or braised beef, venison, liver and porcini, savoury pasta dishes and - thanks to the acid in the wine - for almost everything that is served with tomato sauce.
Only the Brunello di Montalcino must consist of 100% Sangiovese. Vino Nobile di Montepulciano, Morellino di Scansano and Chianti Classico can also be blended with other grape varieties, for example, with Cabernet Sauvignon, Merlot, Syrah and Canaiolo nero. There is a wide variety of wines in Tuscany due to the fact that every wine grower favours his own cuvée.
For those who want to try Sangiovese from Tuscany in its purest form the following wines are recommended:
2009 Chianti D.O.C.G., Fattoria di Basciano / Renzo Masi & C., Rufina
2009 Tenuta Frescobaldi di Castiglioni, Toscana IGT, Marchesi de' Frescobaldi
2007 Brunello di Montalcino D.O.C.G, Castelgiocondo, Marchesi de' Frescobaldi
2007 Chianti D.O.C.G., Tenuta San Vito
2007 Poggerissi, Rosso di Toscana I.G.T.